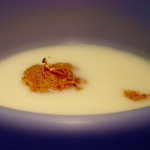 It wasn't just the cereal bowl. It was everything.
Every morning, my first husband would sit in the living room and eat a dish of cereal. When he was finished, he'd set the bowl on the floor next the recliner with half an inch of used milk still in the bottom. Then he'd go on about his day and not think about it again. I, on the other hand… couldn't NOT think about it.
But that wasn't what bothered me most. What turned a minor nuisance into a raging insult was my interpretation.