Today is the one-year anniversary of 17,000 Days! Woohoo! Thanks for coming along and making this one of the best years ever!
(If you're wondering why the number of days left is only 16,463, it's because I didn't actually start writing anything for almost six months, ironically enough!)
If you haven't been along for the whole ride, here are a few highlights and blasts from the past.
It's been a wild year, and if you'd told me a year ago I'd be where I am now, I'd jump for joy (but then not really believe you).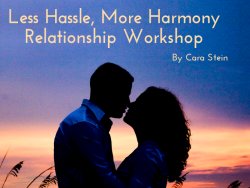 I say this calls for celebration! I've decided to give away a copy of my Less Hassle, More Harmony Relationship Workshop. It's a do-it-yourself workshop in a box, complete with 25 modules of the best information I've found for fixing a relationship and building love, peace, and ease, plus exercises for each module to guide you in applying the concepts in your own relationship.
Here's how to get it
Go check it out: Less Hassle, More Harmony Relationship Workshop. Then leave a comment by the end of the day Friday, September 16, saying:
what you think about the package
how you think it would help you, and
why you should be the one to win it.
I don't want it to just sit on a shelf–I want to send it to someone who will use it to make a real difference in his or her life. I'll pick the answer I find most compelling.
I'll choose a winner on Saturday and contact him or her by email.
Please tweet or share to pass this along, especially if you know someone who really needs it!
Meanwhile, I'd like to leave you with this thought: Where do you want to be one year from today? What one tiny step can you take today to get closer to that?