I'm doing an experiment. Would you be willing to help?
Legend has it that if you make enough initial sales to get Amazon to embrace your book, they will promote it for you, and you never need to touch it again. Amazon works their magic selling your book, and you can get on with writing your next masterpiece. If you've ever been unable to resist their suggestions for other books you might enjoy, you know how good they are at promotion. They're geniuses.
It sounds too good to be true. They'd allow me to harness all that power to sell my book without a lot of ongoing work for me? I wouldn't believe it, except that a real person who I've actually met in real life told me that's how it went for him. I've heard other stories to back it up, too.
According to his experience, if my book sells 60 copies in the next four days (by the end of April 3), Amazon will start promoting it. For him, those initial sales translated into 10-20 sales per day on average, ongoing, with no further action from him. For a $2.99 book, that's about $900 per month in royalties.
I don't know how $900/month sounds to you, but to me, it sounds like about half of my living expenses. It sounds like the end of worrying about whether I'll run out of money and have to return to corporate America. It sounds like every writer's dream: you just write the best book you can, and let someone else worry about promotion and marketing.
If this really works, it will be like a fairy tale come true for me.
This is where I need your help. I don't know if it will actually work for me the way it did for him, but I know it definitely won't work if I don't get a critical mass of initial sales.
Please go to Amazon and buy my new book: Reclaim Your Love (How to Fix Your Relationship). It's only $2.99. (You don't need a Kindle to read it–there's a Kindle reader for PC and Mac, plus apps for iPhone, iPad, and Android.)
If you don't want to help, that's ok. But here are some reasons to consider buying it:
for science! How will we know whether this works if we don't try it?
because you wouldn't mind a few tips about how to build a close, loving relationship that just keeps getting better.
because you'd rather support an indie author than a publishing conglomerate.
because you're a generous person and you know you'll feel good all day by giving me a hand.
because I once wrote something you needed to hear, and you've always wished you could buy me a cup of coffee or something to say thanks. (At $2.99, it's about the same price as a coffee–and would help me so much more.)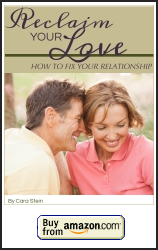 If you want to go even farther, please leave a review, especially if you like it. Apparently, reviews from verified buyers have a significant impact on how much Amazon is willing to put into a book.
Again, if you don't want to, that's totally fine, but I'd really appreciate the help if you can. I'll let you know how it goes.
If this works, you will have changed my life in a major way. Thank you.